Further improving the scalability of the Scalasca toolset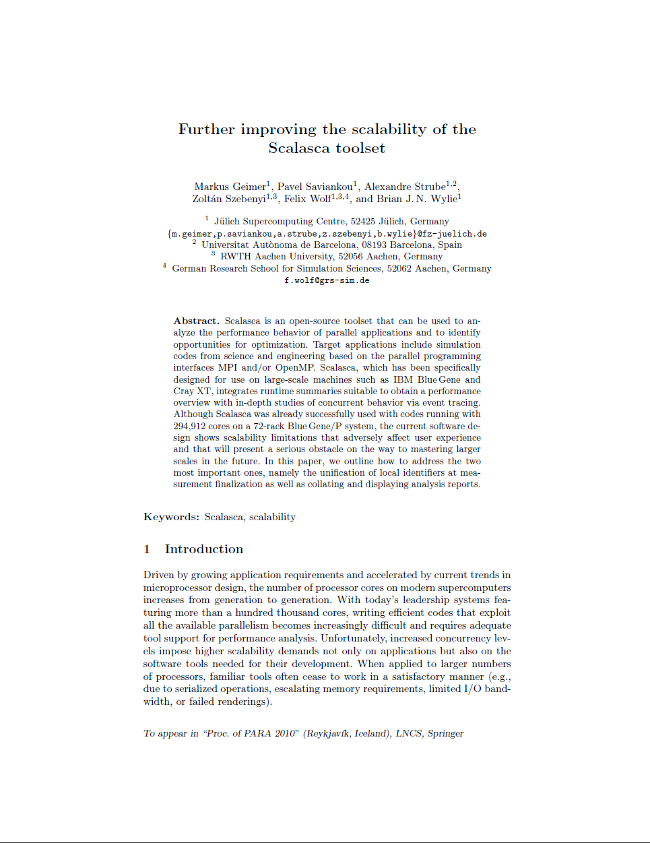 Download
By M. Geimer, P. Saviankou, A. Strube, Z. Szebenyi, F. Wolf, BB. J. N. Wylie.
Published in Proceedings of PARA 2010, Reykjavik, Iceland, 2012.
Cube 4.x series
Cube, which is used as performance report explorer for Scalasca and Score-P, is a generic tool for displaying a multi-dimensional performance space consisting of the dimensions (i) performance metric, (ii) call path, and (iii) system resource. Each dimension can be represented as a tree, where non-leaf nodes of the tree can be collapsed or expanded to achieve the desired level of granularity. In addition, Cube can display multi-dimensional Cartesian process topologies.
The Cube 4.x series report explorer and the associated Cube4 data format is provided for Cube files produced with the Score-P performance instrumentation and measurement infrastructure or the Scalasca version 2.x trace analyzer (and other compatible tools). However, for backwards compatibility, Cube 4.x can also read and display Cube 3.x data.
This software is free but copyrighted
© 1998-2020
Forschungszentrum Jülich GmbH, Germany
© 2009-2015
German Research School for Simulation Sciences GmbH, Jülich/Aachen, Germany
By downloading and using this software you automatically agree to comply with the regulations as described in the Cube v4 license agreement.
Cube Packages
ATTENTION: Since version 4.4 Cube has been split in its components and is distributed in form of four separate packages: CubeW, CubeLib, CubeGUI and jCubeR.
Version
Date
Description
CubeW 4.5

08-Jun-2020

High performance C Writer library

Latest Release
MD5sum: 0f9e386fe79ba52073ab3311105fce30


Includes:

Small improvements in documentation.
Minor fixes.

CubeLib 4.5
08-Jun-2020

General purpose C++ library and tools

Latest Release
MD5sum: 9b2791e9ada7695b39a44a4eba41bd08


Includes:

Requires working support for the C++11 regex implementation for the build.
Use mangeled region names in option -r for the tool cube_stat.
Using of C++11 instead of POSIX regex.h. Requires gcc >=4.9 or another compiler with working support of C++11.
Library is thread-safe and reentrant. Require C++11 mutexes.
Removed custom memory management for non-trivial data types as it led to segfault while finalization.
Various bug fixes in library.

CubeGUI 4.5
08-Jun-2020

Graphical explorer

Latest Release
MD5sum: 9fb6108a7a73115ce63e06c781dbbebb


Includes:

Requires support for the C++11 for the build.
Changed configure option --with-cubelib-config to --with-cubelib to streamline with Score-P and Scalasca.
Added support for parallel calculation of tree items.
Added Bookmark toolbar to save state of loaded cube file.
Added support for i18n (no translations yet).
Added "Scaling" plugin for a simple scaling studies (works best with JengaFett plugin).
Added client-server capability (works with server included with CubeLib 4.5).
Plugins can define own category for the system tree tab and place own windows under this category.
Additional system tree sort option.
Extended System Topology Visualization Plugin.
Improved handling for 1-dimensional topologies.
Various bug fixes in GUI.


Requires : Installed CubeLib 4.5.x
jCubeR 4.5
08-Jun-2020

Java reader library

Latest Release
MD5sum: 42adf10dda9b9852dd2b14f234d58b81


Includes:

Minor improvements in documentation.
Minor fixes.

Supplementary packages for download (Comfort zone)
Bundle 4.5

MD5sum : 94a10e53428924036a13250ea05295c2
Version 4.5 contains CubeLib 4.5, CubeGUI 4.5 and CubeW 4.5
win32 binary

MD5sum : 9baf963906c8bb818010738c4ddef472
Contains CubeLib 4.5, CubeGUI 4.5 and CubeW 4.5. It contains JengaFett, Blade and CallGraph plugins, which can be install optionally.
Mac OS .dmg

MD5sum : f429b0dd95173f98d4b0bfa073bf536c
Contains CubeLib 4.5, CubeGUI 4.5 and CubeW 4.5
Cube Java Reader (JAR)

MD5sum :4d1af37d9c5896b388d97218db88814c
Contains jCubeR 4.5
Latest trunk (Developers zone, NO WARRANTY )
CubeW
CubeLib
CubeGUI
jCubeR
CubeGUI i18n

Contains *.ts files of actual CubeGUI/trunk and might be incomplete.
Use Qt Linguist to add or correct translations.
Send updated *.ts files to Scalasca development team and we will be happy to include it to the list of supported languages.
Additional Cube Plugins
With 4.5 version of Cube we provide a set of additional plugins, which can be build and installed additionally to Cube GUI/Library 4.5. Note that they have additional prerequisites, which need to be installed before.
ATTENTION: Plugins require CubeLib 4.5.x or younger.
Please note that it is an EXPERIMENTAL development and we do not provide any warranty.
Cube Plugins were tested only on Linux Ubuntu with Qt 5.9.1 and have no documentation so far. Requirements (Score-P, OTF2, CubeGUI or similar) need to be available via PATH.
Plugin Name
Date
Description
ScorePion 0.3
06-Jun-2020

Score-P/Intel compiler filter creation plugin

Latest Release
MD5sum: 29206aa86f18568a0060e789297b3948


Allows to build/edit a filter file while exploring an experiment and selecting regions or files to be included or excluded in the filtering process. Allows to store the created filter file in Score-P format (.flt) or as an intel compiler filter file (.ifl)

Requires : Installed Score-P >=v6.0 and CubeLib 4.5.x


Blade 0.2
08-Jun-2020

Simple OTF2 trace explorer

Latest Release
MD5sum: 9d5aec8e1a5cb547b68c5b0e2e1e763c


If experimental directory contains an OTF2 trace, this plugin allows to browse it and study communication patterns. Suitable only for small traces.

Requires : Installed Score-P >=v4.0 or OTF2 >=v2.1.1 and CubeLib 4.5.x


JengaFett 0.3
08-Jun-2020

Metrics correlation explorer

Latest Release
MD5sum: 65d275a0c9d5938d46b03756d53a9914


This plugin allows to display correlation between metrics as a parallel bar charts distribution across the system tree.

Requires : Installed CubeLib 4.5.x



CallGraph 0.2
08-Jun-2020

Call graph display

Latest Release
MD5sum: 464ae0158efd9128a6ff2a04da073390


This plugin builds a call graph based on call tree and assigns the metric values to the edges. Allows to detect a critical calls in the program execution.

Requires : Installed Graphviz and CubeLib 4.5.x


Tau Value View 0.1
08-Jun-2020

Tau Value display

Latest Release
MD5sum: 91ab54aa7cf5573744230462b1cdea1a


This plugin displays statistical data of the metric, colelcted using Tau Format as a small barplot in the tree view. Allows to get an overview over the values distribution.

Requires : Installed CubeLib 4.5.x


Supported Platforms
The Cube tool set has been successfully tested on the following platforms:
Linux (x86, x86_64, ia64, PPC, Power)
IBM BlueGene/Q
AIX (Power)
Cray
Mac OS X (x86_64) (10.8 and younger)
Windows 10 ( experimental )
In addition, the provided configure options (see installation instructions for Writer, Library and GUI) may provide a good basis for building and testing the toolset on other systems. Please report success/failure on other platforms to the Scalasca development team.